Our website uses various types of cookies
A cookie is a small file of letters and numbers at we put on your computer if you agree. These cookies allow us to distinguish you from other users of the website which helps us to provide you with a good experience when you browse our website and also allows us to improve our site.
FYI cookies fall into 4 main types:
1. Necessary Cookies: These cookies are essential for operation of the website. They don't collect any personal information about you. They may include, for example, logging into secure areas of the website or using e-billing services.
2. Analytical Cookies: These cookies allow us to monitor the behavioural activity of our users. They don't collect any personal information about you. We use these cookies to help us to improve the way our website works for you. Types of information they collect include, for example how many visitors to the website or which pages they had come from previously.
3. Functionality Cookies: These cookies allow us to personalise your experience and recognise when our users on return to our website. They may provide services which include, for example, choice of layout.
4. Targeting Cookies: These cookies record a user's visit to a website, the individual pages visited and links followed. These cookies may be set by a third party and may be used to target users for online advertising.
If you are uncomfortable with the use of cookies, you can manage and control them through your browser, including removing cookies by deleting them from your 'browser history' (cache) when you leave the site. For more information about cookies and how to delete, please visit: www.aboutcookies.org
Use of cookies by Genesis:  The following table explains the way in which we use cookies on this website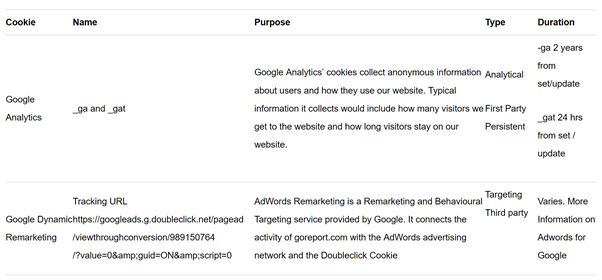 Sometimes, third parties manage some of our cookies, but we don't allow the third party to use the cookies for any purpose other than those listed above.
Types of cookie:
'Session' cookies remain in your browser during your browser session only, i.e. until you leave the website.
'Persistent' cookies remain in your browser after the session (unless deleted by you).
'Performance' cookies collect information about your use of the website, such as webpages visited and any error messages; they do not collect personally identifiable information, and the information collected is aggregated such that it is anonymous. Performance cookies are used to improve how a website works.
'Functionality' cookies allow the website to remember any choices you make about the website (such as changes to text size, customised pages) or enable services such as commenting on a blog.
First Party Cookies:
We use Google Analytics cookies, this web analytics service from by Google, Inc. sets cookies in order to allow us to evaluate and report on the use of our website. It is widely used across the web and all data is anonymised meaning the cookies carry no personally identifiable information. These cookies help us to understand our visitor's behaviour and allow us to make improvements to better our user's experience.
Third Party (Other Site's) Cookies:
In addition, use also use third party cookies. The following sites may set their own cookies whilst browsing our site: LinkedIn, Google.
These cookies will generally only be set if you are signed in to (or have been signed into) a matching account and are generally linked to the use of the Social Media 'like' buttons embedded on our site and many others throughout the web. The use of these cookies is likely to have been detailed in each of the platform's Terms and Conditions or Privacy Policies. See links below:
We also make use of the AdWords remarketing functionality. This allows us to retarget our website visitors them with display advertising. In order to do this, we make use of AdWords remarketing tags Google uses Remarketing cookies – both first-party (such as Google Analytics) and third-party (such as DoubleClick) – to serve more relevant adverts to users who have previously visited our website, as they browse other websites. To opt-out from Google's remarketing programme, please edit your Google Ad Settings.